The Data Services team maintains a series facility and spatially related dashboards for use by the university community.  Below are links to two general dashboards with data about the university's buildings and structures.  These dashboards are available to anyone with access to the university's Tableau Server.  Access to the Tableau Server can be obtained by connecting with the OTDI Data Team at https://it.osu.edu/data/tableau.
We also provide data governance leadership for the Office of Administration and Planning by working with individual unit data leaders to establish standards and guidance on the departments use of Tableau and other university data tool sets.     
If you would like assistance with incorporating FITS data into your own dashboards, please connect with us.  We'd love to learn about how FITS can support you with your reporting needs.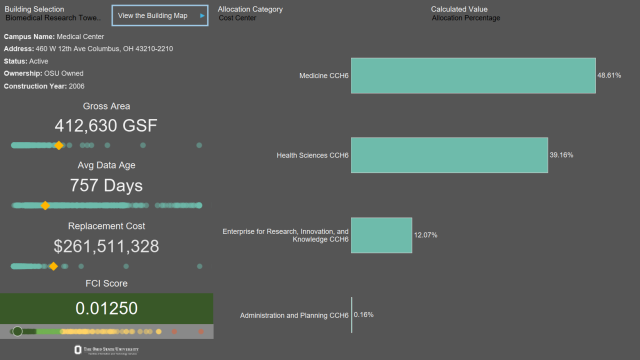 The Building Information dashboard provide basic metrics about the university's buildings and the Cost Centers that allocated space within them.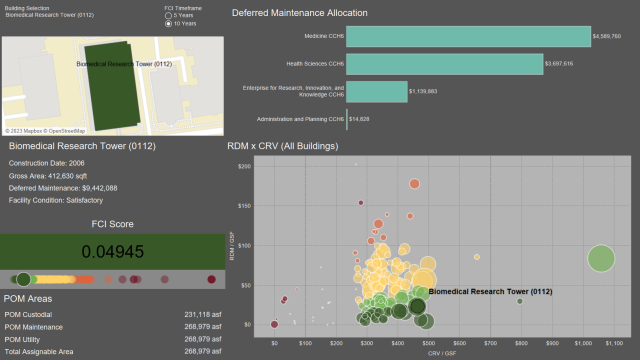 The Cost of Ownership dashboard displays POM and deferred maintenance costs broken down by Cost Center for the university's buildings that have received a Facility Condition Assessment utilizing the updated FCI scoring methods.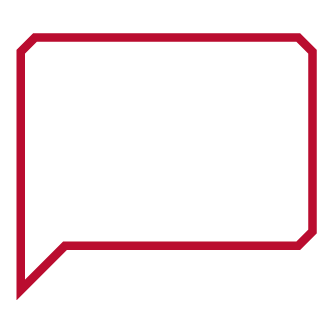 Submit a New FITS Request
FITS is here to assist the university community with your facility and spatial data needs. If you are in need of assistance regarding one of our systems or the data we manage, please submit a FITS Request using the following link: